Today 5th April 2017 Current Affairs
Welcome to the world of Current Affairs.  Here we have presented 5th April 2017 Current Affairs and Latest GK Updates on Today Business, Sports News, National and International News. Day to Day Current Affairs is very much necessary for the Competitive exams. Aspirants can also get the Daily Current Affairs, Monthly Current Affairs Updates, as well as the latest trending news. Practice Today 5th April 2017 Current Affairs as well as latest GK Quiz.
5th April 2017 Current Affairs – International Updates
Android overtakes Windows to become internet's most used OS
Research from web analytics company StatCounter found Android now accounts for a larger share of internet usage than Windows for the first time.
During March 2017, Android users represented 37.93 percent of activity on StatCounter's network versus 37.91 percent for the Microsoft Windows operating system.
UK passport could turn dark blue after Brexit under £490m contract
The UK passport could turn dark blue again after Brexit under a £490m contract to redesign and produce a new version of the document.
The passport routinely redesigned every five years, and Eurosceptics view the new agreement as a way to ditch the EU burgundy cover for a return to the color of the past.
Dawit Isaak chose for 2017 World Press Freedom Prize
Dawit Isaak a journalist who arrested in Eritrea in 2001, and whose case has championed for years by human rights organizations and international governments, will receive the 2017 UNESCO/Guillermo Cano World Press Freedom Prize.
Dhoni as the CEO of an oil company for a day
Former India captain Mahendra Singh Dhoni, who has worn many hats over the years, worn another feather in his cap today. The 'Captain Cool' has appointed as the CEO of Gulf Oil India for a day.
The former Indian captain was named as the brand ambassador of Gulf Oil back in 2011 and since then has shared a good bond with it.
Current Affairs Today – 5th April 2017 Current Affairs
Qutub Minar lit in blue color on Autism Awareness Day
Japan officially recognizes Bitcoin as currency
Meeting held between Lok Sabha Speaker Sumitra Mahajan and Bangladesh PM Sheikh
Hasina
Patients with rare disease will be offered free Air tickets by Air India.
Tax evasion over Rs 5 crore will be non­bailable offence under new GST regime
Justice Indira Banerjee become new Chief Justice of Madras High Court
Sania Mirza­Barbora Strýcová ended runners­up in women's Doubles at Miami Open
  5th April 2017 – Latest National News
First bio-gas bus in Kolkata with flat Re 1 fare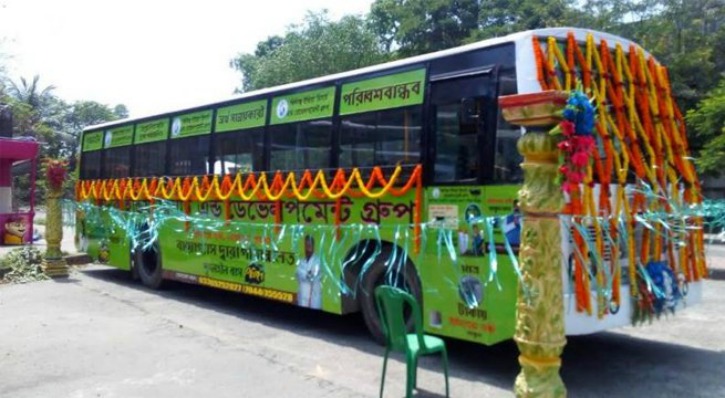 Phoenix India Research claimed to have launched the first bio-gas fuelled bus in Kolkata keeping a flat fare of just Rs. 1. All buses will have a flat fare of Rs. 1 irrespective of the distance, even more than 40 km. Presently, the lowest fare in a Kolkata bus is Rs. 6.
Shri B.P. Kanungo appointed as RBI Deputy Governor
Shri B.P. Kanungo (Bibhu Prasad Kanungo) of Odisha took over as the Deputy Governor of the Reserve Bank of India. The Government of India, on March 11, 2017, has appointed him as the Deputy Governor of the Reserve Bank of India, for three years
Hindustani classical vocalist Kishori Amonkar passes away at 84
Padma Vibhushan recipient classical singer Kishori Amonkar passed away at the age of 84 at her house in Mumbai. In her career spanning seven decades, she revered as 'Gaan-Saraswati.'
IISc India's best educational institution in HRD ministry's NIRF rankings
Indian Institute of Science (IISc) Bangalore has emerged at the top of the National Institutional Ranking Framework (NIRF) that rates Indian higher educational institutes by their performance.
India's first ever transsexual police Sub-Inspector – Prithika Yashini
K Prithika Yashini, 26, scripted history when she took charge as sub-inspector in Dharmapuri district in Tamil Nadu. For, Yashini is the first transsexual to enter into uniform service in India.
Business and Economic – 5th April 2017 Current Affairs
GST: Tax evasion over Rs 5 crore a non-bailable offence
Tax evasion exceeding an amount of Rs 5 crore under the Goods and Services Tax (GST) regime will be a non-bailable offence with the police having the authority to arrest persons without a warrant.
The earlier threshold for treating tax evasion as a cognizable and non-bailable offence was proposed to be at Rs 2.5 crore.
Nifty hit new highs above 9200 for first time ever
Benchmark indices NSE Nifty closed at 9237 levels, up by 64 points or 0.7%. BSE Sensex closed at 29,910 levels, up by 289 points or 0.3%. Reliance, ICICI, L&T, and HDFC were the top contributors to the Nifty gains.
Check Today Sports News
Miami Open Complete Winners list 2017
The 32nd edition of Miami Open Tennis tournament 2017 (also known as the Miami Masters 2017) was recently held at Key Biscayne, Florida, United States, presented by Itau.
Men's Singles: Roger Federer (Switzerland)
Women's Singles: Johanna Konta (United Kingdom)
Men's Doubles: Łukasz Kubot (Poland) / Marcelo Melo (Brazil)
Women's Doubles: Gabriela Dabrowski (Canada) / Xu Yifan (China)
FIFA banned former president of the Guatemala football federation 'Brayan Jimenez' for life
FIFA has banned Brayan Jimenez, the former president of the Guatemala football federation for life. Brayan Jimenez, a former member of the FIFA Committee for Fair Play and Social Responsibility, last year pleaded guilty in a United States federal court to racketeering and wire fraud.