Latest 2nd April 2017 Current Affairs
Nowadays Many Competitive exams are having the minimum score in Current Affairs and GK. So we are providing the daily Current Affairs for the sake of the aspirants who are seriously preparing for the Govt Examinations like Groups, IBPS, SSC, RRB, etc. Get the 2nd April 2017 Current Affairs Updates from this page. On this page, you can get the National, International ans Sports Events. Practice 2nd April 2017 Current Affairs quiz along with General Knowledge Questions.
Get 2nd April 2017 Current Affairs – National 
Vanaja N Sarna appointed Central Board of Excise and Customs chief
Senior bureaucrat Vanaja N Sarna appointed as chairperson of Central Board of Excise and Customs (CBEC).
Sarna, a 1980 batch officer of Indian Revenue Service (Customs and Central Excise), is at present member in the CBEC, an apex policy making the body for indirect taxes.
'Poorna' Film on youngest girl to climb Everest made tax-free in Maharashtra, Bangalore, Hyderabad
After getting tax exemption from Telangana, Karnataka, and Delhi, Rahul Bose's directorial venture Poorna got tax exemption from Maharashtra.The film based on a true story of Poorna Malavath, the youngest girl to climb Mount Everest.
President Pranab Mukherjee to inaugurate Namami Brahmaputra in Assam
President Pranab Mukherjee inaugurated Namami Brahmaputra, India's largest river festival. The festival will be celebrated in 21 districts of Assam, and the festival will be kicked off on the banks of the river.
Indian film 'Bank Chor' – World's first feature film to release in 16D
Riteish Deshmukh's Comedy-Thriller 'Bank Chor' will worldwide release in 16D on June 16.
Shri Suresh Prabhakar Prabhu releases Book Titled "Indian Railway- The weaving of a National Tapestry."
Minister of Railways Shri Suresh Prabhakar Prabhu released the book titled "Indian Railway- The weaving of a National Tapestry" jointly authored by Shri Bibek Debroy (Member, NITI Aayog) Shri Sanjay Chadha (Joint Secretary, Ministry of Commerce) & Ms. Vidya Krishnamurthi.
Trending International Updates – 2nd April 2017 
India becomes associate member of International Energy Agency
India has joined the International Energy Agency as an associate member, a development that the IEA said makes the prestigious Paris-based body more relevant and reflects the country's move to the center stage of the global energy dialogue.
Japan commits 371 billion Yen assistance for infra projects in India
Japan has committed an "official development assistance" (ODA) of 371.345 billion yen (about Rs. 21,590 crores) under 2016-2017 for various infrastructure projects, including the dedicated freight corridor, in India.
Apple opens new App Accelerator in Bengaluru for Indian developers
Apple has announced the opening of its new App Accelerator in Bengaluru, India as part of an effort to support engineering talent and boost growth in India's iOS developer community. iOS is the world's most powerful mobile operating system and the foundation for iPhone and iPad, and the App Accelerator Bengaluru will provide specialized support for developers.
Israel approves first West Bank settlement in 20 years
Israel has approved the establishment of its first new Jewish settlement in the occupied West Bank in two decades.
The security cabinet voted unanimously to begin construction on a hilltop known as "Geulat Zion," near the Palestinian city of Nablus.
Indian magnate appointed head of SA's BRICS Business Council
Indian-origin South African billionaire Iqbal Surve has been appointed as chairperson of the country's BRICS Business Council and has underlined the need for strengthening trade ties with countries like India and China.
Today Highlights – 2nd April 2017 Current Affairs
Malaysian PM Najib Razak arrives in Chennai, begins six-day India tour.
'Namami Brahmaputra' festival celebrated toady in Assam.
Payment systems to remain closed on April 1: RBI
BCCI to felicitate Indian cricket's 'Fab Five' at IPL opening ceremony.
Residential facility for child cancer patients inaugurated today in Mumbai.
IPL 2017: Kohli, Rahul injuries dampen Royal Challengers Bangalore's campaign.
2nd April 2017 Current Affairs – Business and Economic News
India signs First Loan Agreement for US$ 350 million with BRICS New Development Bank

The Loan Agreement for New Development Bank (NDB) financing of US$ 350 Million for Development and Upgradation of Major District Roads Project in Madhya Pradesh signed between Government of India and the New Development Bank (NDB).
'Karnataka Bank' and 'SBI Card' launches co-branded credit cards
Karnataka Bank, a leading private sector Bank of the country, has entered into the collaboration with SBI Card, India's second-largest credit card issuer, to launch co-branded credit cards for Karnataka Bank customers.
Maninder Singh Juneja appointed as MD & CEO of NBHC
National Bulk Handling Corporation (NBHC), India's leading provider of integrated commodity and collateral management services of agri-commodities announced the appointment of Maninder Singh Juneja as the managing director and CEO.
02-04-2017- Latest Sports News 
India Open 2017: PV Sindhu has the edge over Sung Ji Hyun in high octane semi-final clash
In the semi-finals of the India Open on Saturday, at the Siri Fort courts in New Delhi, both PV Sindhu and South Korea's Sung Ji Hyun would be hoping to book a place in the final. Both haven't lost a game yet in the tournament.
Miami Open: Roger Federer, Rafael Nadal set up dream final with contrasting wins in semis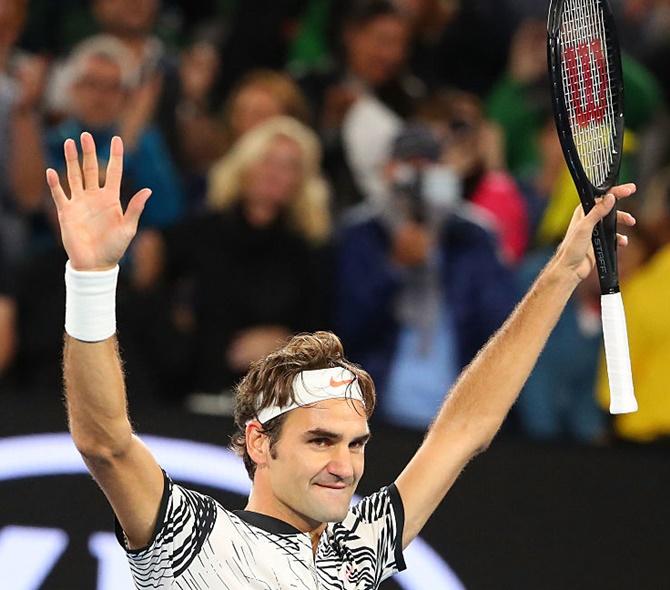 Roger Federer beat Australia's Nick Kyrgios 7-6 (11/9), 6-7 (9/11), 7-6 (7/5) in a thriller on Friday to set up a mouth-watering Miami Open final against Rafael Nadal.
Virat Kohli out for two weeks of IPL
As per latest reports, Indian captain and RCB skipper Virat Kohli will miss the start of IPL 2017. And his fitness will be assessed in the second week of April to determine his IPL return